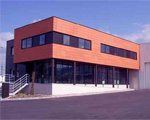 E. ITEC Water Cooled Cables
E.ITEC specializes in the design and manufacture of electrical power transport systems and supplies them all over the world.
E.ITEC commercial division is organized around European Business Sales Managers (France, Germany, UK, Italy), and an agents network managed by an Export Sales Manager.
In addition, E.ITEC has set up two subsidiaries in India and Malaysia, settled in the aim to get closer to the customers and be able to provide them better commercial and maintenance services. In India, the new workshop, where we will provide local repair for water-cooled cables, will open shortly and will be located in Navi Mumbai.
E.ITEC holds 3 ranges of products categories:
ARC.ITEC : a complete range for energy supply for electrical furnaces, including water-cooled cables, bustubes, electrode clamps and plates, conductive arms, system of inspection of cables without dismantling them
ITEC.BAR: a complete range of low and high voltage busducts using air insulation or cast resin technology.
INDUS.ITEC: specific flexible or rigid connectors, including flexible cables, press welded shunts, braids connections, mechanical connections...
E.ITEC supplies in business sectors such as: steel industry, electrometallurgy, foundries, glassworks, oil and gas industry, electrolysis, substations, data centers, furnace manufacturers, chemical industry, etc.