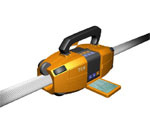 TCK - Wire Rope Testing Equipments
TCK wire rope online real-time, automatic inspection system has fundamentally changed the backward situation of wire rope inspection management. The delectability of the TCK on-line system is much higher for Localized Flaws (LF) and its precision is much accurate for the loss of Metallic Cross-Sectional Area (LMA) and rope diameter reduction. It has solved the three problems of wire rope application - "hidden dangers, waste and low effeciency" and helped wire rope users achieve "safety, economy and efficiency." It has been recognized as the most advanced wire rope NDT inspection system in the world.
Establish new theory of "Spatial Magnetic Field Vector Resultant".
Discover new method of "Weak Magnetism Inspection".
Invent the new technology of "Dou" s Element/Sensor."
Quantitative detection on various wire rope defects.
Online inspection on "Fatigue" inside wire rope.