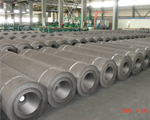 KFCC - Graphite Electrodes
M/s. KFCC is a most modern plant in the World as it is very young company established in 2005 (commercial production) with equipments imported from Europe & America with best possible automation in this field as on date.
The Plant has been setup in line with SHOWA DENKO -Japan by U.S consultants. The company was established as an IMPORT SUBSTITUTE in China to compete International Suppliers like UCAR / SGL / TOKAI / SDK / GI / HEG etc…for UHP Electrodes. KFCC is only using premium quality needle coke sourced from Japan / USA / UK from where UCAR, TOKAI, SGL are importing. Hence the product line of this company is only UHP Grade Electrodes in sizes from 450 mm dia to 700 mm dia. Present capacity of the company is 30,000 – 36,000 TPA and in 2nd Phase would be extended to 60,000 – 70,000 TPA by 2012. They are able to replace imports from SGL / UCAR / TOKAI / SDK etc. in almost all companies in China due to performance.